British Open 2021 live updates: Louis Oosthuizen, Jordan Spieth start strong, Rory McIlroy struggles in afternoon wave
British.Open 2021 live updates: We catch you up on all the action from Thursday at Royal St. George's.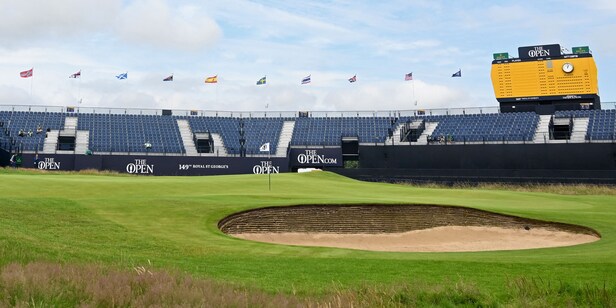 If you're reading this and you set your alarm clock at an ungodly hour to check in on The Open, you are one of us. If you slept in a bit and are catching up on the latest, you are in the right place.
(Scroll down for the latest updates)
There are some terrific groups off early at Royal St. George's, so if you did catch the early action, you were in for a treat. Here are some of our favorites: At 3:03 a.m. (eastern), Brooks Koepka, Jason Kokrak and Garrick Higgo were off. At 4:25 a.m., Jordan Spieth, Bryson DeChambeau and Branden Grace. And at 4:58 a.m., Jon Rahm, Shane Lowry and Louis Oosthuizen.
Golf in its purest form is here. We'd say to enjoy it, but wouldn't that be stating the obvious?
3:49 p.m.: Unfortunately, Jimmy Walker couldn't quite get to the clubhouse in red figures. Bogey-bogey finish for an even-par 70, which puts him six back, where he's joined by Rory McIlroy, Kevin Kisner, Max Homa and Tony Finau, among a host of others. 
That's a wrap on Day 1, folks. Check back bright and early Friday morning for our Round 2 live blog. Some names to watch early will be Collin Morikawa, who had a strong Open debut, posting a three-under 67. He's off at 8:25 a.m. local time, 3:25 a.m. ET, alongside Corey Conners (two under) and Sebastian Munoz (two over). An hour later, Webb Simpson, who shot a 66 on Thursday, will look to chase down the leaders. McIlroy, Reed and Cameron Smith will be off at 5:20 a.m. ET as the true main event of the morning wave. 
3:27 p.m.: OK, we see you Jimmy Walker. He just made his fourth straight birdie at the 16th, which pulls him to two under, four off the lead. Aaaaaand, nevermind, he just bogeyed 17. Still, though, he's sneakily hanging around at one under. 
3:05 p.m.: Looks like that's just about it for the top guys / players in contention. Tommy Fleetwood, who we forgot to mention, shot a three-under 67, which has to be one of his better rounds of 2021, a year that has not been kind to the Englishman. He's one of five Englishmen in the top 10 as it currently stands. Could this be the year?! The last time a player from England won the Open on home soil was Tony Jacklin in 1969 at Royal Lytham & St Annes. Been a loooooong time. 
There are five groups left on the course, and only two of them are under par: former PGA champion Jimmy Walker, who is one under through 15, and Japan's Ryutaro Nagano, who is one under through 14. Next closest to them is Max Homa at even par with one hole to play. If anything significant happens to that trio, we'll keep you updated right here. 
3:01 p.m.: Reed posts two-over 72. Somewhere, Justi--, I MEAN, the operator of the @useGolfFACTS Twitter account is about to fire off some spicy takes. McIlroy follows by pouring in his birdie putt, salvaging an even par round. We said that'd be a small victory about seven holes ago, and it's clearly true considering the fist pump he just delivered. 
2:54 p.m.: Quick update on some of the bigger names completing the first rounds... Rickie Fowler finished up with a solid one-under 69, which may seem like a distant T-32 but anything under par in the afternoon wave should be celebrated. As for his buddy Justin Thomas, he finds himself eight back following a two-over 72. Rory McIlroy and Patrick Reed are walking to the 18th green as we speak. McIlroy, at one over, has a look at birdie, as does Reed, who is two over. Whatever happens, these guys have a lot of work to do Friday. 
2:37 p.m.: Oh boy. No old-man magic for Phil Mickelson this week. He opens with a 10-over 80, which puts him in dead last. Brutal. 
2:23 p.m.: Remember Marcel Siem? The German was once ranked as high as 48th in the OWGR, winning four times on the European Tour between 2004 and 2014. He never found much success in the majors, but that might change this week at Royal St George's, where he opened with a solid three-under 67. Siem, who turned 41 ... checks notes ... today (!), last posted a top 10 on the European Tour at the 2019 Belgian Knockout. Since then he's played mostly on the Challenge Tour, where he just won in his last start and finished in solo fifth the start before that, so he's in form. Still, another interesting name at the top of the leader board. 
2:11 p.m.: Benjamin Hebert has company in the "holy sh-t, what a round this afternoon" department. Webb Simpson, who has never had a top 10 in the Open Championship, matched the Frenchman's four-under 66. Like Hebert, Simpson was also struggling of late, having missed his last two cuts, but he also had been on quite the run before that. Thursday's version of Webb is the one we've grown accustomed to over the last few years. He's seemingly around the top 10 every time he tees it up. 
1:40 p.m.: What could hold up as the round of the afternoon wave belongs to France's Benjamin Hebert, who shot a bogey-free 66 in the difficult conditions to pull within two of the lead. Who could have predicted that? Absolutely no one, that's who. The Frenchman had missed six of his last eight cuts entering the week. 
1:20 p.m.: After that brutal bogey-bogey-bogey stretch, Rory McIlroy tried to right the ship, going birdie-par-par at the eighth, ninth and 10th holes. Any slight positive momentum he gained from that is now gone, as he just bogeyed the par-3 11th to drop back to two over. At this point, with the wind and the difficult of the final seven holes, an even-par round would be a victory for the Northern Irishman. Even if he can manage that, he'll still be six back. 
1:06 p.m.: Well, well, well, look who it is, (extreme Italian voice) Francesco Molinari! The 2018 Open champ stiffs one to kick-in range at the par-4 18th, leading to a two-under 68. That's one of the stronger rounds of the afternoon wave, and it puts him just four off the lead of Oosthuizen. Been a wild few years for Molinari, who won the Open, then looked like he'd win the 2019 Masters before disaster struck on the back nine. He's not been the same golfer since, though he's shown some signs of life of late, his opening round being the latest good sign. 
12:53 p.m.: Interesting stat from the broadcast just now. Despite the heavy wind gusts this afternoon, the first-round scoring average is currently at 70.7. Should it remain below 71, it will be the first time in Open history that the first-round scoring average of the field was under 71. Makes sense given the fact 69 players are at even par or better. Normally, even par would be a pretty good opening score in an Open, but a first-round 70 this week is going to require some serious movement up the leader board on Friday to have a chance on the weekend. Of course, most of the great scores came from the morning, highlighting just how large of an advantage the morning wave had. 
12:21 p.m.: Any good vibes from that opening birdie by Rory McIlroy are long gone. The putter, which looked shaky amid that strong ballstriking start, has been poor. Three straight bogeys, including at the only par-5 on the opening nine, have bounced Rory way down the leaderboard into a tie for 97th place. In this seven-going-on-eight year major-less drought, the weaknesses have vacillated from putting and wedge play but recently his driver has fallen off as he works through things with new coach Pete Cowen. Today, it's been the flatstick bugaboo that has you feeling most anxious as he tries to salvage an opening round.
12:12 p.m.: There's a long way to go but so far, it appears the morning wave got the easier of the scoring conditions. The wind has come up some more for the late wave at Royal St. George's, and we're seeing fewer names scare the mid-60s. Corey Conners, who has been a ballstriking ace all season, Keith Mitchell, and Frenchman Benjamin Hebert are all three under among the later group of tee times. They have five and six holes to play, so there are chances to jump up and join some of those early leading numbers. Among the marquee groups, Collin Morikawa is also in the red at 2-under, striking his way through the Sadnwich wind. 
11:50 a.m.: Bryson DeChambeau struggled to find fairways throughout his opening round during the morning wave. The 2020 U.S. Open champion had some choice words for his driver, blaming the club in no small part for his inability to get the ball in play in his first round. The Open shared video of the moment.
11:04 a.m.: The marquee groups for what is the afternoon wave over in England are now all out on the course and the earliest fireworks came from Rory McIlroy. With disastrously penal hay for misses on the opening hole, the 2014 Champion Golfer of the Year busted his drive down the first fairway. It was a far cry from the mess he made to begin his last Open at home at Portrush, where his chances at the claret jug were basically wiped out in his first 15 minutes of the championship. But on top of the steady tee shot came an absolutely dialed-in spinny approach, which left him with a short opening birdie putt. More of the same came off the tee at the second hole, but McIlroy, who was recently lauded as a top 10 putter of all time by one guru, missed the cup on a great birdie chance at the second green. Still, Rors will take a one-under start through his first three holes. The putter has looked nervy at moments, but the ballstriking appears dialed so far.
10:40 a.m.: Ok, we need a brief palate cleanser from the 17th hole after showing that Zalatoris putt at that spot below. So here's Brandt Snedeker holing out for eagle at the penultimate hole. It came just moments after he nearly jarred his tee shot at the 16th for an ace. That lead to a tap-in birdie, which combined with the eagle hole-out, shot Sneds up the leaderboard into the top 15 when he walked off the course. 
10:15 a.m.: We called Will Zalatoris' round a "wild ride" earlier in the morning. Well, that ride just came to a crash ending in the first round with a bogey-bogey finish. It leaves Zalatoris still in the red and inside the top 30 at the moment, but the final half hour had him walking off the 18th green rubbing his head in something that looked like frustration bubbling towards outright anger. The tough finish included a putt at the 17th hole that, well, you may want to watch with caution below peering through your fingers. 
9:47 a.m.: Stewart Cink posts an opening 66 thanks to a beautiful lag putt from well off the 18th green to set up a closing par. Can you believe it's been a dozen years since Cink beat a 59-year-old Tom Watson in a playoff at Turnberry? Time flies! Now 48, Cink is enjoying a resurgence with a pair of PGA Tour wins this season—his first since claiming the claret jug. In other words, this is not a fluke. 
9:43 a.m.: Great par save by Louis Oosthuizen on 18 after finding a pot bunker with his drive. The South African curled in an eight-footer to post a bogey-free 64 to take the Day 1 lead at six under. It's his lowest round ever at a major championship—and he's played some great major championships. Playing alongside him, Jon Rahm birdies 18, but it was a disappointing opener for the big Open favorite. Rahm stars with a one-over-par 71. 
9:27 a.m.: How about that 9:36 pairing? Brian Harman birdies the last to shoot 65—and he barely edged his two playing partners. With pars on 18, Mackenzie Hughes and Dylan Frittelli both open with 66. That's a cumulative 13 under par for the threesome. Decent! Even more impressive is they've combined for a total of zero top-25 finishes in the Open. 
9:10 a.m.: Louis Oosthuizen is absolutely cooking right now with the irons. Every approach shot seems to be within 10 feet–and he's converting his fair share. After making a six-footer on the par-3 16th, Oosthuizen moves to six under and in solo possession of first. Up ahead, Jordan Spieth two-putts for par on No. 18 to shoot an opening 65—matching the opening 65 he shot at Royal Birkdale four years ago when he went on to win the claret jug. Now that is what they call an AUSPICIOUS start! Anyway, Spieth is the leader in the clubhouse. At least, until Louis finishes.
8:59 a.m.: Louis Oosthuizen misses a great look on No. 15 that would have given him the outright lead at six under. Still, it's another fine start for the South African, who has already finished runner-up at the past two majors.
8:40 a.m.: What were we saying about Jordan Spieth feeling it? He rams in another birdie, this time from 20 feet, on No. 16. Wow! Spieth is now tied for the lead at five under with . . . Louis Oosthuizen. Of course. What a fantastic start for two past Open champs. Even better? The weather looks like it's going to be much more difficult for those teeing off later.
8:25 a.m.: After missing a good look for birdie at No. 14, Jordan Spieth responds by hitting an approach inside 10 feet on No. 15 and converting to get to four under. And how about this?
Yep. He's feeling it. Look out, everyone.
8:21 a.m.: A wild ride for Will Zalatoris just got even wilder as the Wake Forest product knocked down a wedge on the par-4 12th—and knocked it in for an eagle. Zalatoris only has two pars in his last 10 holes, but the eagle now has him to three under for his round as he makes his Open Championship debut. Not that we should be too surprised considering how his other major championship debuts have gone so far this year. The 24-year-old finished runner-up at the Masters and T-8 at the PGA Championship. Stud.
8:09 a.m.: Welcome to the tournament, Bryson DeChambeau! After a rough start, the 2020 U.S. Open champ has birdied three consecutive holes to move into red numbers for the first time. Playing partner Jordan Spieth looked like he'd add a birdie at the par-5 14th as well, but missed a short look. He remains at three under, two shots behind Mackenzie Hughes.
7:51 a.m.: Brooks Koepka bogeys the home hole for an opening 1-under 69, a solid if not somewhat frustrating opening round. Koepka's ball-striking seemed to be really stealth from what we saw (though Golf Channel didn't show as much of his shots as we would've liked). What we saw were a few missed par putts in the 5-10 foot range. The four-time major champion will want to clean those up before the next three rounds.
Yet another good round from Koepka in the majors ... this perspective from stats guru Justin Ray puts it proper context.
7:42 a.m.: World No. 1 Dustin Johnson bogeyed his last two holes to make the turn in even-par 35. Those are a couple sloppy missed short putts from DJ.
He's getting beaten by five by Mackenzie Hughes right now, who just birdied the par-5 12th hole—his fifth birdie of the day—to grab the outright lead.
7:33 a.m.: A bogey at the home hole won't completely soil Viktor Hovland's stellar opening round, as the Norwegian opens his Open career with a 2-under 68. It should be no surprise this ball-striking maven excelled in his first round here ... if the conditions get blustery over the weekend, we'll see if the lack of Open experience hurts him. So far, not too much at all.
7:20 a.m.: Mackenzie Hughes' name is now becoming a familiar sight at the top of the leader board at majors. The 54-hole co-leader at Torrey Pines now has a share of the lead (very) early at Royal St. George's. We have Brian Harman and Hughes atop the board ... this very well may be the plodders' type of Open.
7:05 a.m.: Links golf can make the world's best players look silly. Even the hottest golfer on the planet. Jon Rahm found a pot bunker in the fairway at the ninth hole, and he probably took too much club to try to chase it close to the green. His attempt hit the face of the bunker and came back into the sand. That's a relatable moment from one of the least-relatable golfers in the world.
6:56 a.m.: The biggest of big game hunters, Brian Harman, makes his first bogey at the ninth to drop back to 4-under. He is actually quite possible the smallest of all the big game hunters, but we digress. Viktor Hovland had a chance to join Harman atop the lead but just misses a nine-footer for birdie at the par-3 16th. The young Norwegian is looking great, though, in his Open debut.
6:44 a.m.: Dustin Johnson is off to a fantastic start thanks to this long birdie make at the fifth. If it's possible for the World No. 1-ranked player to be under the radar before the week, that was definitely the case with his poor play (for him, one top 10 in his past 10 starts counts). He's off to the perfect start early at The Open.
6:36 a.m.: Proper shot there from our leader here at the John Deere Open Championship. Brian Harman uses the side board left of the green perfectly, as his approach nestles close to the hole for his fifth birdie. The diminutive lefty is now 5-under through eight ... all the more amazing when you can consider his Open history.
Per Justin Ray, Harman has missed his past four cuts at the Open, carding a combined 16-over in those eight rounds. He's now 5-under through eight holes—after missing the cut at the John Deere last week. This is a crazy game folks.
6:24 a.m.: Make that four birdies in a row for Jordan Spieth. The 2017 champ is now one back ... those new irons in the bag are working well thus far!
6:16 a.m.: That is three straight birdies for Jordan Spieth—who needs coffee when you have Spieth in the mix already on a Thursday? The three-time major champ is now two off Brian Harman's lead with that birdie barrage on holes five through seven ... and he just stuck one tight on No. 8. WOW!
6:14 p.m.: Englishman Andy Sullivan sets the pace with a first-round 3-under 67. Justin Harding from South Africa is on that number playing his 18th hole, too. Some birdies are being made with the wind not gusting too much right now.
6:10 a.m.: It's still going well, Koepka remaining at -1. But he's missed a number of 15-footers through 12 holes. Might need a few of those to drop.
On the 18th, Richard Bland, the underdog who stole the show through 36 holes at the U.S. Open, finishes with an even-par day in front of the hometown crowd.
6:03 a.m.: Bryson makes a nice chip from 50 yards at the par-5 seventh to give himself a chance at birdie to get to even. Spieth followed Bryson's lead, although his three-footer is a bit more precarious. And Dustin Johnson gets into red with a birdie at the third. Things are happening!
5:56 a.m.: We weren't kidding about the 59 watch for Harman. Now at four under through five with a 15-footer to get to six. Meanwhile Koepka just plods along at one under through 11, doing exactly what he needs to be doing in Round 1.
5:53 a.m.: Starting to think the R&A postponed the Open strictly to give Spieth more time to get right.
5:45 a.m.: Spieth rolls in a 15-footer at the par-3 sixth for back-to-back birdies to move to red figures. Also in red: Joel Dahmen, who makes the turn in two under. It should be noted that earlier this week the Stanley Cup was dropped and dented, but I can't imagine the fate of the claret jug if Joel and his caddie Geno Bonnalie get a hold of it.
5:37 a.m.: Spieth is on the board, getting to even with a 30-footer sidewinding birdie at the fifth. Ahead, Paul Casey's birdie attempt at the 10th stays out, but things stay steady for the vet at two under for the round.
5:30 a.m.: Justin Rose begins his day with a 20-foot birdie. Rose has had a rough 2021 but a good week/finish could solidify a Ryder Cup captain's spot for the Englishman.
5:21 a.m.: Koepka makes birdie at the ninth to move to -1, because of course he did.
5:17 a.m.: Spieth hits his approach at the fourth through the green, leaving a testy up-and-down ahead. Also, Harman is on 59 watch after starting with three straight birdies.
5:13 a.m.: Harman, two under through two. Our premonition may be coming true.
5:10 a.m.: Spieth tugs a five-footer at the third for par, dropping to one over. Brooks does the same with a birdie putt at the eighth to remain at even. At the first Rahm has a sensible lag for his par. Bryson again can't find the fairway, this time going left and into the rough at the fourth.
5:01 a.m.: Jon Rahm begins his day with a bomb at the first, with playing partner and defending Open champ Shane Lowry finding the gorse right.
4:52 a.m.: Koepka's birdie attempt falls just to the right to stay at even. M.W. Lee, who captured the Scottish Open last week, is off to a strong start at -1, with Brian Harman rolling in a 20 footer at the first for a birdie. True story: I hit my alarm this morning, and in my Hypnopompic state I muttered, "Harman doesn't tee off for another 40 minutes" and hit the snooze button. Maybe an omen?
4:44 a.m.: DeChambeau makes a mess of the first for a bogey then puts his drive in the 2nd in the heather. An inauspicious start for the 2020 U.S. Open champ.
Ahead at the seventh, Brooks Koepka—who tends to play well in these sort of championships—puts a wedge into the wind within 15 feet at the par-5 seventh, giving himself a look to get into red figures for the day.
4:30 a.m.: Jordan Spieth and Bryson DeChambeau are off. Both find the fairway at the first, Bryson doing so with an iron off the tee. While both will garner attention today (and hopefully the next four days) it will be particularly interesting to see how DeChambeau handles the vagaries of links golf, a beast that has thrown him for a loop in the past.
4:25 a.m.: Your early leaders are Paul Casey and Andy Sullivan at two under. Begging the question: IS IT COMIN' HOME?!? (Too soon, England? ... Too soon.)
4:20 a.m.: Good morning from Royal St. George's! Actually, we're coming to you live from America, but we'll be keeping you up-to-date with all the proceedings from Sandwich over the next four days.
MORE BRITISH OPEN 2021 STORIES FROM GOLF DIGEST: